Schönborn attacks Sodano and urges reform
Christa Pongratz-Lippitt8 May 2010
Card. Sodana
Card.Schönborn
Excerpt
The head of the Austrian Church has launched an attack of one of the most senior cardinals in the Vatican, saying that Cardinal Angelo Sodano, dean of the College of Cardinals, "deeply wronged" the victims of sexual abuse by Catholic clergy when he dismissed media reports of the scandal. In a meeting with editors of the main Austrian daily newspapers last week, Cardinal Christoph Schönborn, the Archbishop of Vienna, also said the Roman Curia was "urgently in need of reform", and that lasting gay relationships deserved respect. He reiterated his view that the Church needs to reconsider its position on re-married divorcees.
Our Lady of Akita: '...bishops against other bishops...'
from said book; it features the true-life, Church-approved Marian apparition of Our Lady of Akita, interwoven with Mr. Kelly's storyline.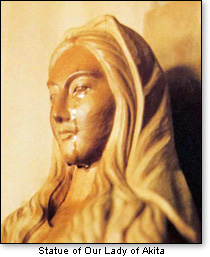 The apparitions, which occurred in the early 1970s, are chillingly prophetic. In one message, the Blessed Virgin Mary said: "The work of the devil will infiltrate even into the Church in such a way that one will see cardinals opposing cardinals, bishops against other bishops. The priests who venerate me will be scorned and opposed by their confreres ... churches and altars sacked; the Church will be full of those who accept compromises and the demon will press many priests and consecrated souls to leave the service of the Lord...."